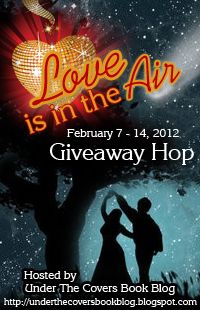 First, I would like to thank Under The Covers for hosting this awesome giveaway hop. It has come to that time of year again - Valentine's Day. It is a time for the bad poetry and naughty underwear to be dusted off and put to use. But if you want more than just barely-there underwear and a few sonnets, how about a sexy romantic book to get you in the smooching mood? I have a whole Valentines Day package I'm going to be giving away that includes two hot romance novels. So, lets get down to the good stuff.
Valentines Day Package includes:
- "The Duke is Mine" by Eloisa James
- "A Devil Named Desire" by Terri Garey
- What Valentine package would be any good without some chocolates? So I have included some chocolates in my package.
- Other misc. Valentines Day goodies.
"The Duke Is Mine" by Eloisa James
Goodreads Blurb:
Destiny will be decided between the sheets in this all-new tale of "The Princess and the Pea."
For Olivia Lytton, betrothal to the Duke of Canterwick--hardly a Prince Charming--feels more like a curse than a happily-ever-after. At least his noble status will help her sister, Georgiana, secure an engagement with the brooding, handsome Tarquin, Duke of Sconce, a perfect match for her in every way . . . every way but one. Tarquin has fallen in love with Olivia.
Quin never puts passion before reason. And reason says that Georgiana is his ideal bride. But the sensual, fiery, strong-willed Olivia ignites an unknown longing in him-- a desire they are both powerless to resist. When a scandalous affair begins, they risk losing everything--Olivia's engagement, her sister's friendship, and their own fragile love. Only one thing can save them--and it awaits in the bedroom, where a magnificent mattress holds life-changing answers to the greatest romantic riddle of all.
"A Devil Named Desire" by Terri Garey
Goodreads Blurb:
And no one knows that better than Sammy Divine. Once an angel, now cast down, Sammy's out to prove he's not the only angel who can be led into temptation . . .
Hope Henderson's sister has disappeared without a trace, and Hope will do anything to find her--even make a deal with the Devil. An ancient text holds the key to unspeakable power, and it's the Archangel Gabriel's job to make sure it stays hidden, even if he has to become mortal to do it. Lives, love, and the fate of the world hang in the balance, as Hope and Gabriel learn that when passion's involved, desire can be a devil that's impossible to control.
1. This giveaway is US only due to shipping costs.
2. The only entry required is that you be a follower.
3. The giveaway is open from 2/7/2012 - 2/14/2012 and the winner will be contacted within 24 hours after the closing of the hop.
4. Just fill out the Rafflecopter below.
a Rafflecopter giveaway
Don't forget to check out the other blogs participating in the hop.