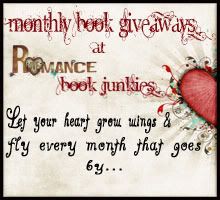 It's that time, for my monthly book giveaway. I still have another copy of "Dark and Stormy Knights" and I'm also going to be giving away a slightly used copy of "A Taste of Magic" by Tracy Madison. This month is going to be US only due to shipping costs. Good Luck!
Today is Elizabeth Stevens' birthday, and not only is it the one-year anniversary of her husband leaving her, it's also the day her bakery is required to make a cake—for her ex's next wedding. If there's a bitter taste in her mouth, no one can blame her.

But today, Liz is about to receive a gift. Her Grandma Verda isn't just wacky; she's a little witchy. An ancient gypsy magic has been passed through her family bloodline for generations, and it's Liz's turn to be empowered. Henceforth, everything she bakes will have a dash of delight and a pinch of wishes-can-come-true. From her hunky policeman neighbor, to her gorgeous personal trainer, to her bum of an ex-husband, everyone Liz knows is going to taste her power. Revenge is sweet…and it's only the first dish to be served.
It was a dark and stormy knight, and nine dark defenders embarked upon a most perilous quest….
They're the ultimate defenders of humanity—modern day knights who do dark deeds for all the right reasons. In this all-star collection, nine of today's hottest paranormal authors bring us thrilling, all-new stories of supernatural knights that are brimming with magic mystery and mayhem.
John Marcone sets aside his plans to kill Harry Dresden to go head-to-head with a cantrev lord in Jim Butcher's Even Hand. Kate Daniels is called upon for bodyguard duty to protect Saimen, a shifter she trusts less than the enemy in Ilona Andrews' A Questionable Client. Cormac must stop a killer werewolf before it attacks again on the next full moon in Carrie Vaughn's God's Creatures. And in Vicki Pettersson's Shifting Star, Skamar gets more than she bargained for when she goes after a creature kidnapping young girls—and enlists the aid of her frustratingly sexy neighbor.
When everything's on the line, will these knights complete their missions and live to fight again another day? Find out in Dark and Stormy Knights!
Includes stories from:
Ilona Andrews
Jim Butcher
Shannon K. Butcher
Rachel Caine
P.N. Elrod
Deidre Knight
Vicki Pettersson
Lilith Saintcrow
Carrie Vaughn
As most of you know I reserve the monthly book giveaways for my followers so if you would like to enter just follow me in some way.
Then all you have to do is fill out the Rafflecopter below.
a Rafflecopter giveaway