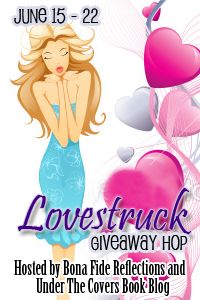 Welcome to my stop on the Lovestruck Giveaway Hop. This amazing hop is hosted by Under The Covers Book Blog and Bona Fide Reflections. I have a very special giveaway today to celebrate not only the giveaway hop but my birthday on June 18th. So lets get to the good stuff.
A book I read this year that left me truly lovestruck was "Caressed by Night" by Amanda Greene you can read my review here. For my giveaway I will be giving away a Kindle ebook copy of "Caressed by Night" and a birthday prize pack created by Miss Bohemia. This giveaway will be international, Whoohoo!
Dimitri Arsov, the last remaining pure vampire, was thought to be dead for the past four hundreds years. Now, he is back and has a score to settle with the traitor that had tried to kill him centuries ago. But as he waits for his prey to blindly step into his carefully laid trap, his overwhelming hunger for blood is triggered when he saves a beautiful art historian.

Kerstyn Ingmar's life was normal and straight up boring until the night she is rescued by the dangerously sexy, powerfully mesmerizing, Dimitri. Unable to resist his diamond blue eyes and intense kisses, she is drawn into his world of darkness and closer to her impending doom.

While their desire consumes them, Dimitri is haunted by images of a bloody and deadly future. As his enemies draw near, he must find a way to save his mate from her destiny before fate destroys them both.
Birthday Prize Pack
Includes:
Jewellery set - Lilac tear shaped beads and silver plated wire wrap detail (plus an 18 inch chain)

Purple butterfly mirror in gift bag

Purple butterfly tag/bookmark

Butterfly/love mini cards with envelopes
There will be one winner who will win both the Kindle ebook and the birthday prize pack all you have to do is fill out the rafflecopter below. Leaving a comment is the only required entry all the rest are extra.
a Rafflecopter giveaway